Bradbury Stamm
December 18, 2020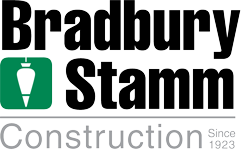 Bradbury Stamm has achieved a reputation for quality and ensures that the client always comes first, no matter how large or small the job. Now in the fourth generation of leadership, Bradbury Stamm has been active in and has reinvested in the communities they serve for nearly 100 years. With four key locations across the United States (New Mexico, Minnesota, Colorado and Texas) and by utilizing nation-leading management techniques, tools, and resources, they have been ranked among the biggest and best construction companies.
Bradbury Stamm has been an EXPI-DOOR customer for over 20 years, originally choosing EXPI-DOOR because they liked the idea that the doors would come with the insulation instead of with the steel. While they still like that about our doors, the guys in the field also like the fact that there's no sub-framing to install, making door installation quick and easy. And with the hardware already attached, no experience is needed. With a preference for the Series 500 preassembled doors, Bradbury Stamm has also purchased Storefront doors with a borrowed light on the side. They said, "to get a glazier costs a fortune, EXPI-DOOR does all the work for you, including the glass!" We also received some wonderful feedback from the Bradbury Stamm team, "The team as a whole is awesome, doors and windows I never have to worry about!"
Thank you for the kind words, Bradbury Stamm. We're glad we can help you provide your clients with top-notch buildings.
Become an EXPI-DOOR Customer