Storage Structures
October 23, 2020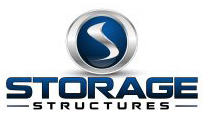 Storage Structures Inc. is a national metal building subcontractor and the leader of innovation and design for the self-storage industry. Their goal is to be ON-SITE, ON-SCHEDULE, ALL THE TIME for your building project. They work with a broad spectrum of general contractors, engineers, and architects to construct hundreds of self-storage facilities including single story, bi-level, multi-story up to nine stories, conversions, mezzanine systems, and R.V. canopies and buildings. They offer the patented Alpha Framing System, 5X10 light gauge framing systems, 10X10 structural framing systems, customized structural steel packages, metal exterior wall and siding systems, and corrugated through fastened and standing seam metal roofing systems.
Storage Structures has been a Bay Insulation Family customer for 13 years, and they were first introduced to the EXPI-DOOR Systems through Bay District Manager Norm Tillman. Since then, Storage Structures has continued to look for doors that are best suited to the application of the building, and they have found that EXPI-DOOR can accommodate their needs and meet their customers' expectations. Most of the doors that Storage Structures orders from EXPI-DOOR are custom due to the need for upgraded hardware. For maximum efficiency, Storage Structures typically orders EXPI-DOOR doors preassembled and shipped directly to the jobsite.
We enjoy working with Storage Structures and appreciate them pushing us to broaden our product offerings.
Become an EXPI-DOOR Customer