Dunn Building Company
October 6, 2020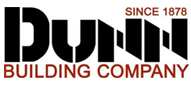 Dunn Building Company, headquartered in Birmingham, AL has a rich history in a multitude of construction aspects from railroad, to road paving, concrete mixing, and general contracting, and they've been an EXPI-DOOR customer for about 15 years.
Since 1878, Dunn has maintained a reputation for consistently completing projects on schedule and within budget. Today, more than 70% of their projects are for repeat clients stemming from solid long-term relationships with subcontractors and suppliers. With Design-Build capabilities, Dunn Building Company is able to provide design, engineering, and construction services for their customers. Self-performing on concrete and pre-engineered erection services add a full dimension to their capabilities.
Dunn originally chose (and continues to use) EXPI-DOOR doors because of our ability to produce custom doors and the array of specialty hardware we offer. They prefer our preassembled doors, especially the Series 700, because the Series 700 is a higher-grade door with additional hardware options. However, when they were in need of non-standard-size doors with a removable transom panel and specialty hardware, they knew they could still turn to us for these custom doors.
We are proud to partner with a company that, from turnkey construction to very complicated specialized services for major industrial markets, prides itself on Safety, Quality, and Efficiency at the core of their deliverables. "Do It Right. Consider It Dunn."
5/1/2023 Update – We're excited have this update to one of previously featured customers! Dunn Building Company recently completed the Northwest Alabama Regional Airport Hangar, which utilizes our Storefront doors and EXPI-VIEW windows, in Muscle Shoals, Alabama. This project was a new construction, design build, 150'x150'x50′ (22,500SF) pre-engineered metal building (PEMB) hangar capable of housing a 737 Aircraft with its 123′ wide hangar door with 50'x100'x16′ (5,000SF) lean-to office build-out with restroom. We enjoy partnering with Dunn, especially because of their Dunn Fundamentals of safety, quality, and efficiency, and we are grateful they choose us to supply their doors and windows.
Architectural design: 5R Design out of Huntsville, AL
Structural design: PRM Structural Engineers out of Huntsville, AL
Civil design: CG Jones, LLC. Construction out of Tuscumbia, AL
Mechanical & Plumbing: Lee Company out of Madison, AL
Electrical: Southern Electrical Contractors, Inc. out of Birmingham, AL
Fire Suppression: Industrial Fire Protection (IFP), a worldwide company licensed in 50 USA states and over 65 countries.
Become an EXPI-DOOR Customer